Catch; Apple Watch Prototype App
Catch is an apple watch prototype app, designed for surfers. This app can track weather conditions, scan activity in the water, keep track of the surfer's health conditions, and connect them with one another. The app's purpose is to enhance the surfer's experience while riding the waves.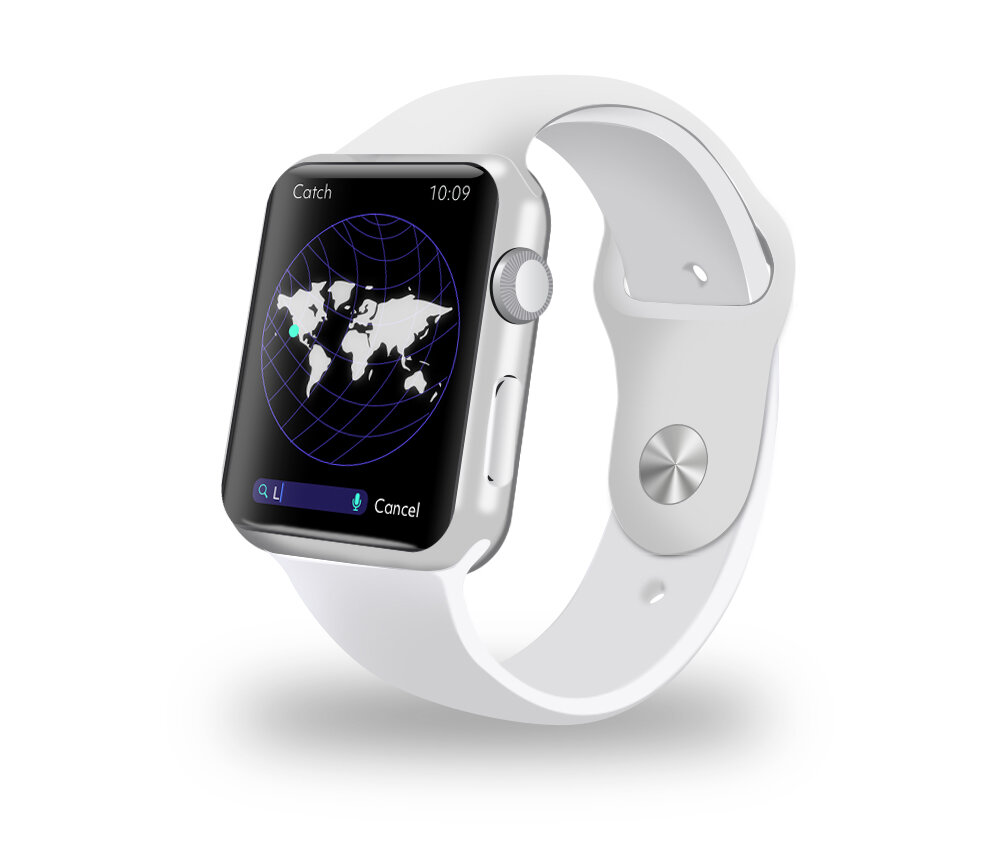 Proposal: Solving a smart city problem through UX interactive prototyping design
Role: UX Designer/Researcher & Illustrator
Softwares & Tools: Sketch/Invision/Illustrator/Photoshop/After Effects
Audience: Surfers along the coasts who own apple watches
Challenge
I was proposed with a task to create a mobile application that would solve a problem that occurs in a smart city. The goal was to target an audience, have interviews with the specific users, and create usability studies on the prototype and its performance.
Problem
Surfers need access to data on the conditions of the ocean to enhance their surfer experience.
To be more aware of the ocean, can better the surfing session. Many times surfers are stuck in the ocean waiting to catch that perfect wave. The application will help surfers pick a rewarding spot to catch a wave.
Ideation Process
User Research
Beginning step was to conduct interviews, to target the needs for a successful user ability application. There was brainstorming of the product's goal after researching the audience needs. The goal was to push the ITO design for a smart city. I conducted interviews on fellow surfers I knew, and created persona needs.
Persona 1
WHO? 42 year old married father who is an intermediate surfer and sound tech for Disney in California
NEED? An app that saves time waiting in the ocean waiting for good waves and various tools to better advance the surf experience
BEHAVIOR? The ocean is his outlet and he only surfs 1-2x a week due to work
Persona 2
WHO? 21 year old single female who is an advanced surfer and entrepreneur who two jobs
NEED? An app to save time researching better beaches depending on swell conditions and track surf experience & time spent in water
BEHAVIOR? Already pretty knowledgeable of oceanography and surfs at least once a day in between jobs
Persona 3
WHO? 32 year old single male who is a surf competitor and their work is surf competition
NEED? To track time/duration of surfed waves, cataloging their experience in the app database that tracks ocean movements and currents
BEHAVIOR? Spend all their time competing/practicing surfing and surfs at least twice day
How the app solves the problem?
The app uses augmented reality on the waterproof apple watch that analyzes these conditions:
Swell movement
Currents
Low/high tides
Notifications from local surfers
Shark or any dangerous activity in the water for safety
A way for surfers to connect with one another when catching waves

How the app is unique?
The app's special feature; augmented reality will collect data on the ocean movements. There will be informational data on the waves while surfing, hand gestures to move the camera around, etc.
My next step was to collect data on water conditions that affect surfers, regarding information about swells, currents, tides, weather and important surf conditions. I looked at other surf applications that represented surf conditions to better understand the human surf need.
After extensive research on surf applications, sketches were drafted out for initial stage of wireframing.
The first prototype was placed in Invision, where my fellow peers tested out the user ability of the app. There was feedback on clarity of frames and their intention for the user. I also received feedback on choosing different colors that would make the application not blend with the ocean while the user is surfing.
I decided to completely revamp the look of the app. I wanted the brand to exemplify boldness, individuality, and minimalism for the Apple Watch. I worked on making the transitions between each screen to be more friendly and clear what their functions are for. The color was important to not blend with the ocean, rather pop out to the user. Therefore I used three primary colors with additional white text.
Concluding thoughts: Overall I received solid feedback on the clean, minimalistic design. The colors were a success and the transitions were user friendly. The process from beginning to end was a learning experience!
Next steps: My goal to improve this app, would be to further push the functions for the health and surf mode. I would create more wireframes on how those screens would look when setting those presets that connects the surfer's apple health to Catch. Even further, I would create a smart function where the app could suggest beaches for the user in case they are not satisfied with their weather conditions.

Prototype continuation
The app prototype was moved into after effects to create a promotional video for Catch.